Going to Court in Travis County FAQ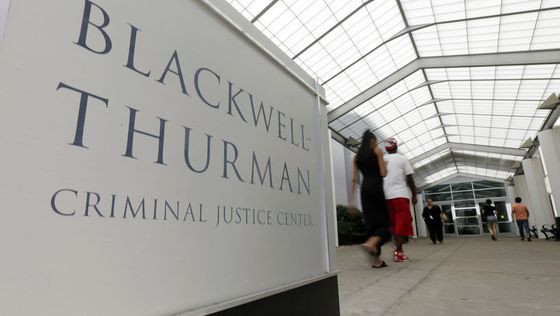 Look for this sign. Enter at end of the covered walkway.
Q: I'm nervous. What should I expect?
A: Unless we have told you to be nervous, don't be. Usually you just sit in the court and wait for us to tell you what is going on. Bring a book.
Q: Why do I have to be at court this time?
A: Each judge has a different attendance policy. We only have you come to court when a judge requires it or if your appearance will benefit our defense.
Q: How do I get to the court?
A: The Blackwell-Thurman Criminal Justice Center is located at 509 West 11th St, Austin TX 78701. Directions and a map.
Q: What should I do when I arrive? Where should I sit?
A: You should text me at 512-791-2724 to let me know you are in court. Please include your name in the text. You should sit inside the courtroom. If the judge or court staff calls your name just let them know you are there. I will be there as soon as possible. Don't worry! We will be there soon.
Q: Do you have a video about going to court?
A: Yes! Here it is.
Q: How long will I be at court?
A: You should plan on being there until noon. However, we do everything we can to get you out sooner than that. If you plan to accept some type of probation, plan to be there until 2pm (there is a lot of paperwork).
Q: What should I bring?
A: Please bring any court documents that you have received during the case. Also, bring any originals of counseling certificates and letters of community service (even if you have already given them to us). However, if you aren't able to bring the documents, don't worry.
Q: Your letter/e-mail says to be there at 9:00am. But the court computer screens say 8:30am. Did I miss something?
A: No. Only people without attorneys need to be there at 8:30am.
Q: I'm in court, but I don't see you. Where are you?
A: Much of our job is done in the halls behind the courtroom. We negotiate with prosecutors, work with court administrators, fill out paperwork, and talk with judges behind the scenes. We also usually have other clients set on the same day. We prioritize our tasks to get the best results for each client. Sometimes this means we get rid of easy things first so that we can give full attention to the tricky issues. We use many different negotiating tactics – some of which involve waiting until late in the morning to approach the prosecutors (after other defense attorneys have exhausted them). Sometimes we are avoiding certain prosecutors. Please be patient. Negotiating is an art. It is not something that should be rushed.
Q: What time should I expect you?
A: Usually between 9:30-10am.
Q: How should I dress?
A: You should wear nice clothes – your "Sunday best". But regular clothes (jeans, t-shirt) are OK as a last resort (as long as the shirt does not have any offensive language or images). Travis County judges do not freak out at inappropriate clothes like the judges in Williamson County. Please don't test this out by wearing shorts and flip flops, though.
Q: Where should I park? What if I'm running out of time on the meter?
A: Parking is difficult. But there is street parking and a few pay lots around the court. Just allow time to drive around and look. If you have to feed the meter during court, let us know. It will not be a problem.
Q: Can't I just park in your lot?
A: Unfortunately, no. We don't own the lot next to our office. All those spots are leased to other people. Sorry!
Q: I'm running late because of "traffic", "alarm clock didn't go off", "my ride bailed on me", "I forgot court was today", "my car wouldn't start" – am I going to be in trouble? What should I do?
A: Don't panic! But, call us immediately so that we can explain it to the judge. In the meantime, do everything you can to get to court (bus, taxi). We are really good at damage control.
Q: I owe you money. Can I bring cash or a check to court?
A: Yes. I will give you a receipt for the payment.
Q: I'm still nervous. Can I call or e-mail you to ask questions?
A: Absolutely. We are happy to answer questions. Call us at (512) 472-1113 or e-mail us at charlie@roadmanlaw.com.