Texas SR-22 insurance Certificate FAQ
Texas SR-22 Insurance Certificate: What You Need to Know
WHAT IS THE SR-22 CERTIFICATE OF FINANCIAL RESPONSIBILITY?
SR-22 is a certification issued by a car insurance company showing proof that you are carrying the minimum liability coverage required by the state. It obligates the insurance company to tell DPS if you stop paying for liability insurance. In other words, it is a way for DPS (and the judge who grants the ODL) to be sure that you have liability insurance.
IS IT SEPARATE FROM REGULAR INSURANCE?
No. It is bundled together with liability insurance. When you purchase SR-22, you are also getting liability insurance. However, you can purchase a non-owner's policy and SR-22 bundle from an independent insurance provider that will not interfere with your regular policy.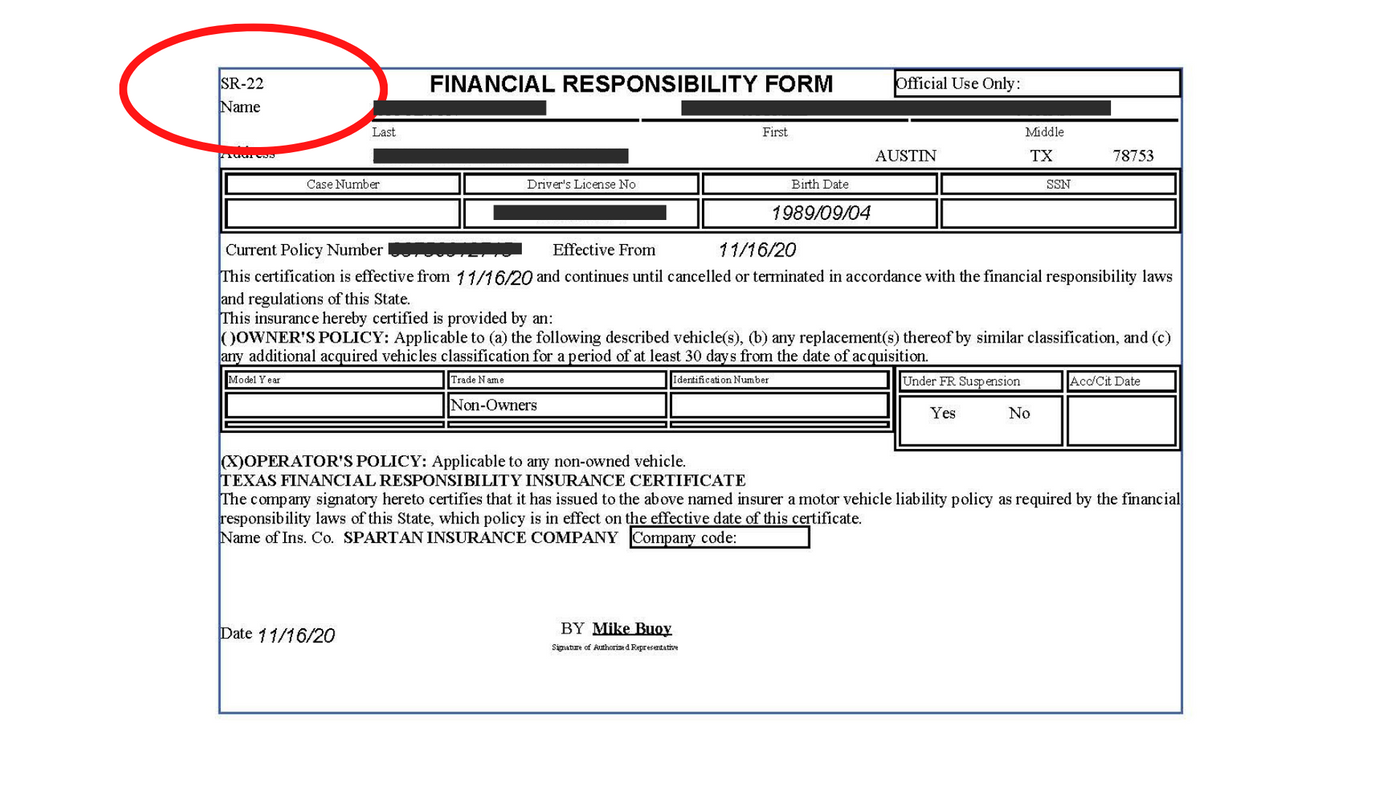 THIS IS WHAT AN SR-22 CERTIFICATE LOOKS LIKE:
WHERE SHOULD I GET IT?
We know the people who runSPEEDY SR-22. They are great! There is also another company that has 3-month policies: MOON INSURANCE. However, you can google "SR-22 Texas" and a thousand companies to choose from will pop up.
CAN I BUY IT FROM MY REGULAR INSURANCE COMPANY? WILL THEY RAISE MY RATES?
If your current insurance company sells SR-22, you can get it from them. Unfortunately, I don't know if your rates will be affected by this decision. This is why many of our clients prefer to buy a non-owner's policy and SR-22 bundle from Speedy SR-22 (or another SR-22 company).
WHAT DO I DO WITH THE PROOF OF SR-22 INSURANCE?
Send us a copy. We need to attach it to the application for your Occupational Driver's License. Usually the insurance company will send it to us if you give them our contact info.
I ONLY NEED SR-22 FOR 3 MONTHS BUT THE ONLINE SYSTEM ONLY QUOTES IT FOR A 6 MONTH POLICY.
MOON INSURANCE does 3 month policies. Or, call the insurance company and explain what you need. Or, you can just stop paying at the 3 month mark.
I STILL HAVE QUESTIONS.
No problem. Give us a call – (512) 472-1113 – we're happy to answer any questions. Or you can e-mail us.